Konvoj Ensemble is an intereuropean outfit exploring improvisation and interactive, animated graphic notation with swedish composer and saxophoneplayer Ola Paulson in front of an ensemble consisting of musicians from Denmark, Sweden, Lithuania and UK.
Two albums with the ensemble has been/will be released on Konvoj Records: The first album Colors Of: (KOR001) was released September 25th, 2013. The second album Mira (KOR009) will be released on May 25th, 2016.
---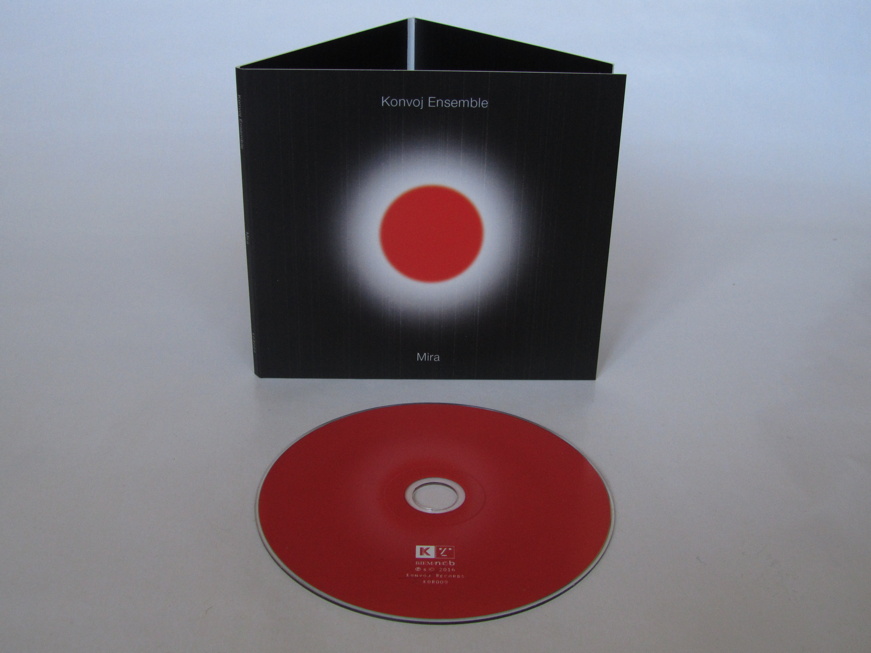 Album available at Konvoj Records Bandcamp page Konvoj Ensemble - Mira.
This line up is an eccentric collection of freedom seekers with self-imposed formal requirements and energy management - as one reviewer so cleverly and correctly put it a few years ago.
The extended version of the ensemble (feat. Evan Parker and Sten Sandell) played together for the first time during a residency at the festival Music Around in Malmö and Copenhagen 2012. That time it resulted in the acclaimed album Colors Of:. And now they are back with their second release!
Gathered around a collection of graphic scores and interactive methods, the ensemble uses their skills as sound explorers, to navigate through a complex musical organism. Mira is composed/constructed by Ola Paulson and Jakob Riis, on commission by the project Inter Labs, and was broadcasted live on Swedish Radio in connection with the Sound of Stockholm Festival 2014.
Mira /ˈmaɪrə/
In seven movements
1st MovementPrelude / Hommage to o Ceti06:26
2nd MovementSpeak Out, Oh Ye Red Giant09:54
3rd, 4th & 5th MovementIn the Belly of the Whale - 3 Days and 3 Nights20:02
6th MovementA Part of Miranda11:17
7th MovementPostlude / Hauers Treasure05:26
Lotte Ankeralto & soprano saxophone
Evan Parkertenor saxophone
Ola Paulsonbaritone & alto saxophone
Liudas Mockunasclarinet & bass clarinet
Jakob Riiscomputer, real time processing
Sten Sandellpiano & voice
Anders Uddeskogdrums & percussion


Reviews on Mira:
"...The five pieces ebb and flow, alternating between patient, collective improvisations to eccentric, volcanic eruptions. Each piece emphasizes a certain strategy of the ensemble collective language... This composition demands repeated listening in order to fully explore its complex, nuanced aspects." - Rated 4/5 Eyal Hareuveni, The Free Jazz Collective
"...It will take us a while to fuller absorb the many layers and nuances of what makes this so wonderful but as of my third listen, I am already knocked out." - Bruce Lee Gallanter, DMG
"...Paulson and Riis have constructed a score with plenty of headroom and space for each instrument to me individually heard. The pleasure is in identifying the voices of say, Anker, Parker, or Mockünas' saxophone. Sure things might get noisy, like the opening of "Speak Out," but things settle into those individual voices and the meld of two or three at once. This is a most satisfying experience." - Mark Corroto, All About Jazz
---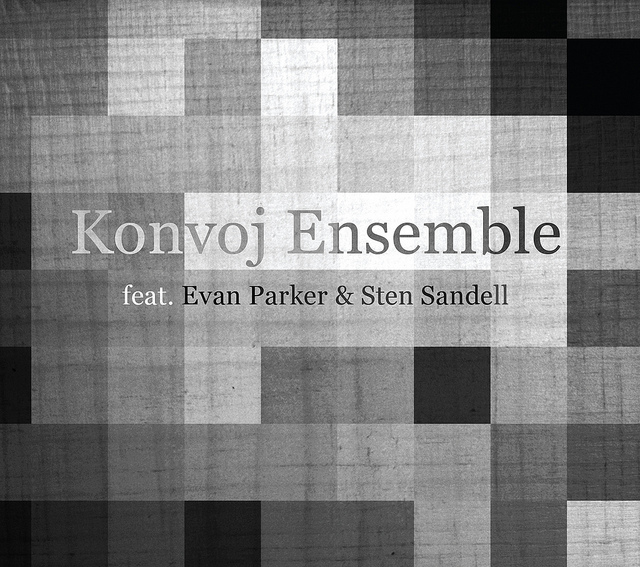 Album available at Konvoj Records Bandcamp page Konvoj Ensemble feat. Evan Parker and Sten Sandell Colors Of:
Released in september 2013 on Konvoj Records the first album by Konvoj Ensemble is in a meeting with the legendary British reed player Evan Parker and the Swedish pianist Sten Sandell playing an about 52 minutes long improvisation - or let's call it an investigation(!) - based on a series of graphical sketches and instructions.
The piece, which also named this live album, is comissioned by Swedish Arts Council / Musik i Syd and was composed and constructed by Ola Paulson and Jakob Riis for the Music Around festival in Copenhagen and Malmoe in late 2012.
The concert at Palladium, Malmö was recorded and released on Konvoj Records in september 2013; an excursion in the area between, around and within composition and improvisation.
Colors Of: received critical acclaim from reviewers around the globe. Below you can read quotations from a few of the highlights, as well as follow the links to the full reviews:
"...an experience that should make this album jazz record of the year. With jazz, I mean the crossing of borders that designated the original form of the music, its core. Its body, pulse, blood circulation..." Read the full review in swedish by Thomas Millroth, Sound of Music
"It is bizarre. It is erratic and eccentric. It is not free, it is organised. It is structured. It is freedom forced into an organised structure" Rated 4/5 - Full review by Stef, www.freejazzblog.org
"The group works really well building sections of quiet tension and torrential release of musical energy with the group barreling headlong into furious improvisation. Along with traditional acoustic instruments, there are great slabs of industrial lawnmower sounding electronics, which bulldoze square blocks of music. Parker and Sandell fit in well, carving out their own spots in the maelstrom and making pithy statements the spaces open up." Full review by Tim Niland, Music and more
"From then on the ensemble splits into intimate solos and duos, broken by Riis' quiet electronic sound storms that patiently gather more volume and presence before the sparse and erratic gels into brief intense coda, without losing the enigmatic dramatic narrative of this brilliant performance... This demanding composition - and the ensemble inspiring articulation of it - raises the bar for the ensemble's future projects." Full review by Eyal Hareuveni, All About Jazz