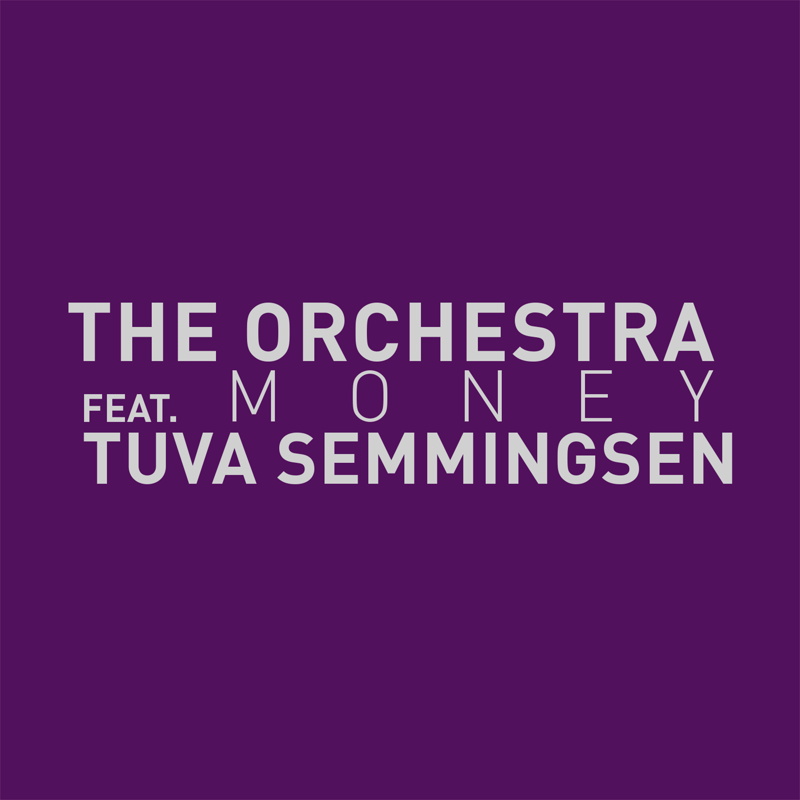 The Orchestra feat. Tuva Semmingsen: Money (ORCH CD 009), Available on november 24, 2014 @ Gateway Music and digital services like iTunes, Spotify a.o.

In a range of songs from The Great Songbook the celebrated mezzo-soprano of the Royal Danish Opera Tuva Semmingsen sings the highly original arrangements by Jakob Riis played by the danish big band The Orchestra.

1.Les moulins de mon cœur7:04
2. Dat Dere5:30
3.God Bless the Child7:16
4.The Dry Cleaner from Des Moines7:02
5.So Long, Big Time!6:44
6.Le Grand Lustucru3:24
7.Pinocchio (Tell Me the Truth)8:04
8.Les Feuilles Mortes6:09

Vocals:
Tuva Semmingsen

Reeds:
Peter Fuglsang; alto sax, soprano sax, clarinet. Kasper Wagner; alto sax. Anders Banke; tenor sax, flute. Pernille Bevort; tenor sax, flute. Jan Harbeck; baritone sax, bass clarinet.

Trumpets:
Jesper Riis. Tobias Wiklund. Maj-Berit Guassora. Hendrik Jørgensen

Trombones:
Steen Hansen. Jakob Riis. Niels Gerhardt. Klaus Löhrer; bass trombone, tuba.

Rhythm section:
Simon Toldam; piano. Per Gade; guitar. Nils Bo Davidsen; double bass. Martin Andersen; drums.

Liner notes:
From the very start The Orchestra has been all about original music. This story has it's beginning in Copenhagen sometime in the nineties, specifically at the Rhythmic Music Conservatory. The two music students Jesper Riis and Henrik Frisk started the band based on a common need for a musical workshop where they could test their arrangements and freely explore all kinds of ideas. Soon enough, events would take an unexpected turn. It was a rare debut that fits well into our story. Now it was the summer of 1992, and they were still busy in the rehearsal room. Suddenly they found them- selves at the festival in Montreux. Someone had accidentally opened the door, which turned out leading to the world stage.

Ever since they have traveled together through many different musical landscapes. The Orchestra is a close-knit unit as we encounter them today. They are about to converge with mezzo- soprano Tuva Semmingsen, but we have time to briefly sneak past them through the door to take a look at the room. It's not a guest room, but rather turns out to be a workroom. We only have enough time to see that there are lots of note sheets for melodies in both French and English, that span from different periods and genres, before the singer arrives accompanied by Peter Fuglsang and Jakob Riis. Then after that we hide in order to hear what is going on. Apparently the program is not ready to put in the hands of the singer. Is this really how an artist from the Royal Danish Opera wants it? Yes apparently. This will be cooperatively built from the ground up.

The collection of songs that are finally agreed upon has since been moved into the orchestra's workshop. In some simpler cases, the colors have faded somewhat over the years and were in need of restoration. In other cases a hole has been knocked into the wall to frame a new window. This is a case of well-known compositions drawn from various shelves of the twentieth century basements. It's been the task for Jakob Riis to decant the material and distinguish the songs from their dregs. When we meet them, they have undergone a health cure and have learned to sing in the language of The Orchestra.

According to an old Japanese saying there is a breath of life; when you say "Inochi no iki wo fuki Komu" it means breathing life into something. There is an additional saying; "it is when a doll's eyes are painted on, that it comes to life". It is the last stroke of the brush that makes everything come alive. This last analogy is particularly true for the version of "God Bless The Child", which could be called the center of the album, and that has formed the project's definitive starting point. Here, as in the rest of the repertoire, it is the meeting between Tuva Semmingsens sensitive mezzo-soprano and the joint voice of the orchestra that represents that last stroke that allows us to hear the music for the first time. And we understand that The Orchestra is still all about original music, no matter where the source originates from. And then there's the question of the title. About this one can say that there is a consistent theme in all of the texts, and that it's built on a solid financial foundation! If we can expect anything from The Orchestra it would be that we can never know where they will take us next.
Henrik Jöhnemark, Malmö, October 2014

Reviews Sound of Music, Jazznyt
In absence of mind
The Orchestra plays Jakob Riis
1. In absence of mind 7:48 mp3 excerpt
2. Lubricant games 8:05 mp3 excerpt
3. Koen siger Muh! 6:14 mp3 excerpt
4. Havet 6:15 mp3 excerpt
5. Left at the tidal meadow 7:35 mp3 excerpt
6. Distant arrivals 3:27 mp3 excerpt
7. Hedvig 6:32 mp3 excerpt
8. Z & H 7:41 mp3 excerpt
9. A whole lot of potatoes 8:56 mp3 excerpt

Total playing time 62:55

Available at Spotify, iTunes a.o.
A burst of creative energy, in a selection of sharp profiled compositions. Rhythmic intensity and sound-collages in cinemascope. Played by The Orchestra in exellent shape, counting some of Denmarks absolute top jazz musicians. Jakob Riis is one of the main composers for The Orchestra, and here is their first dedicated cd with his highly personal music, that doesn't restrict to the normal conventions of bigband music.
The music on this CD was composed for The Orchestra in the period 1994-2001. Some of the compositions are newly revisions of music originally written for the multimedia performance "Europas Ran", which played at Den Anden Opera in Copenhagen, March 1995. A performance based on the Greek myth about Zeus kidnapping the princess Europa, daughter of King Agenor:
 "Zeus falling in love with Europe, sent Hermes to drive Agenor's cattle down to the seashore at Tyre,
 where she and her companions used to walk. He himself joined the herd, disguised as a snow-white bull.
 Europe was struck by his beaty and, on finding him gentle as a lamb, mastered her fear and began to play
 with him. In the end she climbed upon his shoulders, and let him amble down with her to the edge of the
 sea. Suddenly he swam away, while she looked back in terror at the receding shore."
The scores and parts with the music on this cd can be purchased and downloaded upon agreement. Further information here

Line up:
Conductor:
Henrik Frisk.
Reeds:
Peter Fuglsang (alto sax, clarinet, bass clarinet), Claus Waidtløw (alto sax, soprano sax, clarinet, pennywhistle), Lars Møller (tenor sax, pennywhistle), Pelle Fridell (tenor sax, clarinet, flute), Niels Oldin (baritone sax, bass clarinet).
Trumpets:
Jesper Riis, Maj Berit Guassora, Hendrik Jørgensen, Jens Gotholdt.
Trombones:
Nikolai Bøgelund Pedersen, Jakob Riis (trbn, synth), Niels Gerhardt (trbn, tuba), Klaus Löhrer (bass trombone).
Rhythm:
Henrik Gunde (piano), Per Gade (guitar), Kaspar Vadsholt (double bass), Anders Mogensen (drums).

Recorded october 29-30, 2001, mixed november 20-21, 2001, at Sun Studio, Copenhagen.
Produced by: Henrik Frisk and Jakob Riis
Recorded and mixed by: Bjarne Hansen
Assistant engineer: Johan Høyer
Mastered by: Bjarne Hansen
Photos by: Henriette Lykke
Cover by: Mark Solborg

COPE Records, Copecd 073