EAR-SOUND'N'NOISE-SCAPE
2022/3/19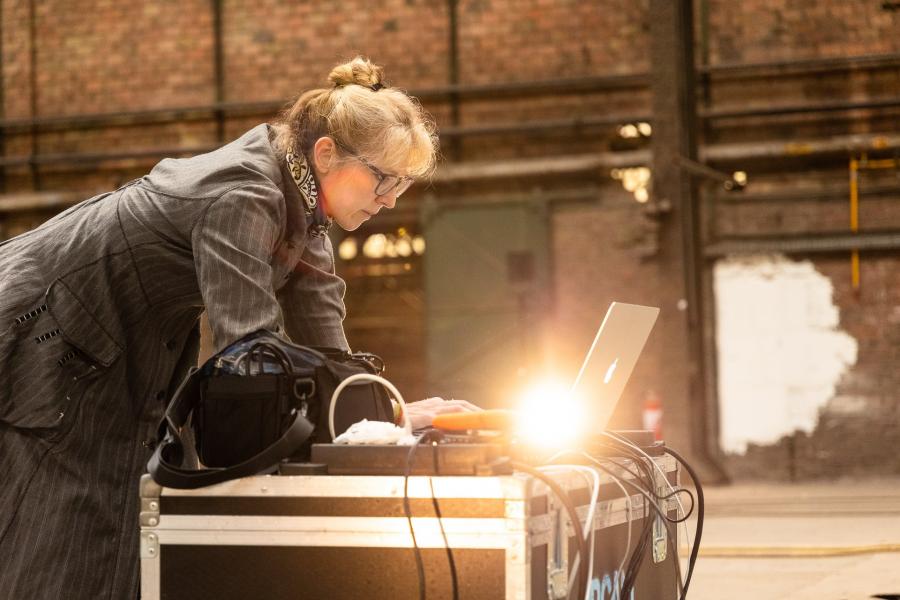 Saturday March 19th, 15:00 - 17:00
BIBLIOTEKET Rentemestervej 76, Copenhagen
EAR-SOUND'N'NOISE-SCAPE 2022 will take place on 2 days in March and April in collaboration with the Library Rentemestervej, the venue Mayhem and the association Alteration. On that occasion, we have invited a strong collection of artists to unfold with field-recording, ambisonics and sound installation. The program at the Library, March 19, consists of four parts of approx. 25-30 minutes each.
The Sound works will be performed in the great hall. Where 10-14 loudspeakers will be used both as an ambisonic- and as a loudspeaker orchestra. The music is played from a multi-track HardDisk recorder and the sounds are controlled from the mixingboard. Brand new commisioned works for loudspeaker orchestra, by composers PO Jørgens and Jakob Riis are being performed. Silas Bieri / Alexis Rodríguez Cancino - has created an installation work based on audio-visual research, among others in the local area of Bispebjerg. The programme is crowned by an ambisonic work selected for the occasion by Natasha Barrett.

PROGRAMME

Natasha Barrett - performs "Heterotopia" - a journey from a forest to a winter shoreline. And "Growth" a short piece made during the pandemic; ultrasonic beamer, smashed glass, ambisonics and wavefield synthesis.
Natasha is a guest professor at Jysk Musikkonservatorie and an internationally recognized composer in field recording and ambisonics.
PO Jørgens - "Universal Time" an electroacoustic composition that incorporates various sonic expressions of time and the passage of time. The work is inspired by thoughts about time, time zones, parallel universes, microcosm
POJ is a renowned sound sculptor, creative studio composer and percussionist.
Jakob Riis - "Alt. Sound (Sound Check) "A new multi-channel composition that examines sound phenomena, timbre and sonic textures for nuances threatened by drowning in Gish-gallop and disinformation.
Jakob Riis is a renowned Danish laptop composer, trombonist and acoustician - specializing in MAX / MSP.
Silas Bieri / Alexis Rodríguez Cancino - "drafts of silence" An audiovisual installation with images from Bispebjerg. The work documents the silence and its disturbances, the silence that had been created by routines. Silence as repetition or absence of sound.
Bieri / Cancino is a reputable duo with a large number of audio-visual productions behind them in the Nordic countries and abroad.
Admission 40 DKK, - per concert
https://bibliotek.kk.dk/arrangementer/musik/ear-soundnnoise-scape
https://www.facebook.com/events/1034558300430886
Arranged by Alteration in collaboration with the Library on Rentemestervej and Mayhem. The project is supported by Bispebjerg Local Committee, Nørrebro Local Committee, Copenhagen Municipality, Copenhagen Music Committee, SNYK, Statens Kunstfond and Koda Kultur
---

The EarSoundScape project was started in 2015 by Jakob Riis (Malmö) & Jørgen Teller (Copenhagen) as a re-establishment of both soundscape and acusmatic sound art in Malmö, Copenhagen and Aarhus.
EarSoundScape has had a large number of artists on several unique sites, including:
from Malmö / Stockholm: Fabio Monni, Alessandro Perini and from DK: Lola Ajima (Boe Przemyslak), SØS Gunver Ryberg, Sofus Forsberg, Maria Diekman, Maria-Laurette Friis and from Greece: Marinos Koutsomichalis. The performances have taken place in Dome of Visions (Aarhus & Copenhagen), Sofiebadet and in Lokstallarna (Malmö). The initiative also branched out in 2018-19 into a major Nordic project called "Stories of Flights, Ferries and Fish".
The new title EAR-SOUND'N'NOISE-SCAPE 2022 will focus on sound'n'noise-scapes using field recordings, objet trouvé, installations and interaction
---

The programme for the next event at MAYHEM on April 28th
Lise-Lotte Norelius & Jørgen Teller - 2 renowned sound artists in new collaboration and meeting between laptop with objects and distortion-beat-synthesizer-DJ.
Irene Bianco - solo electronics + percussion
Irene is an Italian experimental percussionist who uses laptop and fsk. controller interfaces. Educated at DKDM and SDMK.
Alexis Rodríguez Cancino - performs an ambient work for 2 turntables at Mayhem.
https://www.facebook.com/events/1126640648090263/
The aim of the concerts is to kick-start innovative meetings between composers around performances of a revitalized and re-orientation of an art form that in 2022 can be called sound'n'noise-scapes